/* Secondary Pages & Blog Posts */ ?>
Champlain Canal-Towpath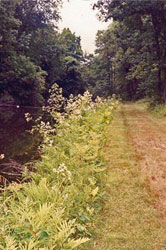 Within the Village of Schuylerville there is a very well preserved section of the historic Old Champlain Canal and Towpath From the Schuyler House to Lock 5 Island. The Old Champlain Canal is listed on the National Register of Historic Places. This bike and pedestrian pathway is a link between the historic sites related to the siege of 1777 and the structures and waterways of the original Champlain Canal and recreation sites along the west bank of the Hudson River.
The following is an excerpt from the Comprehensive Plan of 2005 written by Roy Albertson, a long time resident of the Towpath and a member of the Comprehensive Planning Committee:
An event that has brought Schuylerville into a position of prominence was the completion of the Champlain Canal in the early 1800s under the leadership of Philip Schuyler II. He was the grandson of General Philip Schuyler who owned a home and businesses in what is now Schuylerville during the Revolutionary War period. The Canal brought great prosperity to our area and helped our village develop into a highly successful community.
Although much of it has been rerouted to the Hudson River, a portion of the original Champlain Canal still exists and runs through the village. For over a mile a Towpath follows along its side reaching from General Schuyler's home to Lock 5 of the current canal. Originally, mules and workers used it as they pulled the heavy wooden barges filled with produce and other goods through the canal and its locks. Currently, a section of the Towpath serves as a village street for residents whose homes lie along it and for all others who wish to make use of the recreational offerings of the area. Among these are a boat launch, wooded trails, picnic areas, Nordic skiing and ice skating in winter, Hudson River scenic views, access to the Canal and the river for fishing, opportunities for nature study and photography and space in which to be alone with one's thoughts in a natural setting away from the pressures of daily life.